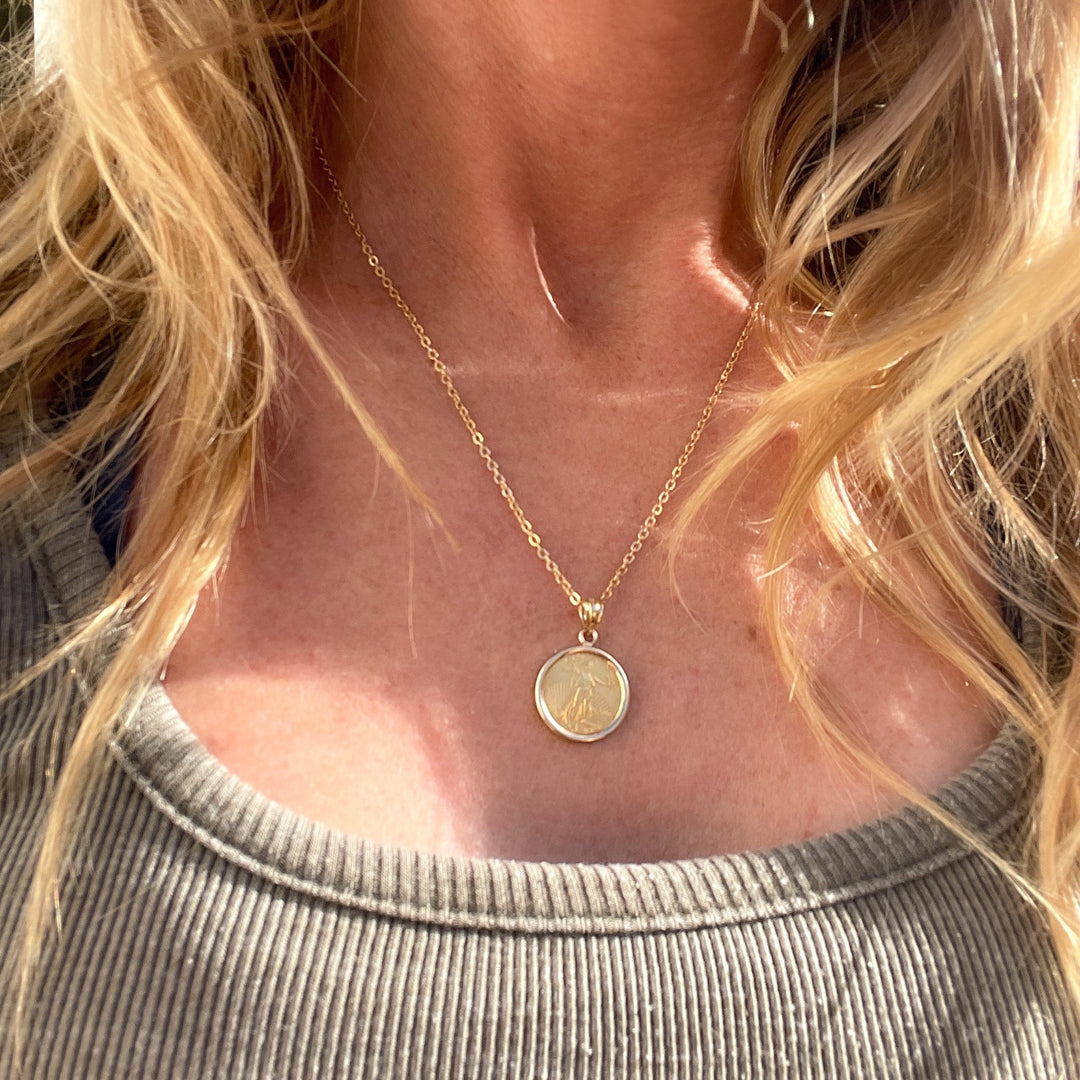 Description
This listing is for customers who are interested in purchasing just the Pendant without a chain. If you would like to purchase a full necklace, please go to this listing.

https://www.etsy.com/listing/1305016073/110-oz-gold-american-eagle-liberty-coin?variation0=2883005145&variation1=3474545827

Imagine the compliments you'll receive every time you wear this iconic 1⁄10 oz. Fine Gold American Eagle pendant - featuring one of the most beautiful coin designs of all time.

One side of the Gold American Eagle Coin has the portrait of an eagle, but this necklace features the opposite side by displaying Lady Liberty in all her freedom and glory. With windswept hair and eyes fixed with unwavering determination, she is holding the torch of enlightenment in her right hand, with an olive branch in the left. She is gracious and feminine and peaceful and strong.

This necklace is a 1/10 oz Gold American Eagle Coin with a face value of $5 USD, but the actual value is based on how much 1/10 oz of gold is worth as determined by the market. At the time of writing this listing the coin is valued at 235 dollars. The bail is 14 kt Gold, with a 4 prong back holding the coin in place. The bail is 3mm wide making it easy to slide this pendant onto your own chain.

This pendant is a legacy piece that is designed to treasure for a lifetime and more. While not only being a unique small investment, it is also a beautiful, deeply meaningful layering piece. It is the perfect gift and addition to any gold jewelry collection.

Feel free to message me with any questions before placing your order!

Shipping
While most orders ship within 3 days, please allow 7 business days for your order to be fully processed and shipped. You will receive an email with tracking information as soon as your package is ready.
I do offer expedited shipping and strive to complete orders as soon as possible but if you select this option please consider that the production time from order placed to fulfillment is still 7 business days.
If you need rushed production and shipping there is an additional fee. Please contact me to see if I can accommodate your request.

PENDANT ONLY | 1/10 oz Gold American Eagle Liberty Coin Necklace | 22kt Gold Coin | Legacy Necklace | Heirloom Jewelry